When it comes to a uniquely Canadian piece of "fashion" it is pretty hard to top the hockey jersey; now throw in a mix game/movie/comic/TV geekiness and you have Geeky Jerseys.
A jersey isn't just a glorified sweater. Or some sweaty uniform that gets worn during a game. Jerseys are much more than that — they're the tuxedo of geeks. Worn all over the world, for any occasion, they demand attention. But something has always been missing from jerseys, a bit of je ne sais quoi, you might say. And that's where it all started. A sports nut and a geek came together over an argument about the best looking jerseys, and how they could be improved. We're crazy about jerseys, and we're totally determined to make sure you feel the same way!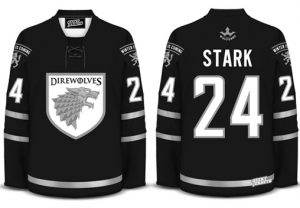 Geeky Jerseys, a Canadian operation, take unique geek culture icons and turn them into hockey-fied clothing, which answer age old questions such as "If the Stark's of Winterfell had a hockey team, what would it look like?"
Our personal fixation has been on the line of Game of Thrones inspired jerseys, where numerous family sigils lend themselves well to hockey team crests. We also have a few Star Wars themed sweaters in the growing collection as well, as they just looked too cool not to have. In addition, we have even had them create a corporate branded jersey for our UAV business – Flitelab.com (although I don't believe they are currently taking custom orders).
Their jerseys are made from scratch from the conceptual design to final product. New designs are released throughout the year for preorder for a limited window, generally of 2-4 weeks, and can then take up to 4-6 months to be created and delivered. Old designs get retired but often reappear in limited re-runs if demand exists.  They also stock a few limited premade versions of certain designs, however the sizing can be limited and you won't have the choice to customize.
Each jersey features embroidered crests, sewn stripes, lace-up neck, and your personalized cut and stitched name & number. Made from polyester material that allows them to breath and be durable enough to be used in an actual hockey game, or years or regular leisure wear.
Prices usually run around $100CAD plus shipping. The jerseys are available in all sizes from Youth Small all the way up to Goalie, these are official sized and styled hockey game jerseys, so expect them to wear a bit baggy over street clothes, but that is all part of the look, just ask Kevin Smith.
They are now also expanding into to baseball jerseys and hats, but the hockey jersey will always be our favorites.
If your looking for a unique gift for the family geek, be sure to give them a look, one of a kind items for any pop culture collector, and great for cosplay & conventions or hanging on the wall. Great company making truly unique products.
Find Geeky Jerseys here:
Website – http://www.geekyjerseys.com/
FaceBook – http://www.facebook.com/GeekyJerseysdotcom
Twitter – http://twitter.com/GeekyJerseys
Instagram – https://www.instagram.com/geekyjerseys/